AHIMSA

Matthias Muller – Guitar
Neyveli S. Radhakrishna – Double Violin
Udai Mazumdar – Tabla
R. Yogaraja – Mrudangam, Kanjira, Morsing
please also see: http://www.myspace.com/ahimsaworldmusic
Ahimsa is a four-piece world music ensemble based in Germany, India, and Switzerland. Seamlessly weaving guitar, double violin and both North & South Indian percussion, their music is a captivating fusion, masterfully blending traditional Indian Carnatic music with elements of western classical music and jazz.
The group grew out of a chance meeting in 1999 of Munich-based guitarist Matthias Muller and South Indian violinist S. Radhakrishna, which blossomed into friendship, mutual admiration and eventually a musical partnership. With the addition of two ace Indian percussionists and a bassist, the line-up of Ahimsa was born, and their two albums to date, `Seven Steps to Liberty' and `What is the Nature of Spirit?´ have acquired broad critical acclaim. Ahimsa in Sanskrit denotes non-violence and compassion for all beings.
Today Ahimsa tours as a quartet, with Matthias on guitar, Radhakrishna on the rare and unique, stereophonic double violin, and percussionists Udai and Yoga, from North and South India, respectively. Their musicianship is superb and their live performances are incendiary.
In Ahimsa's fiery compositions, the complex rhythmic structures and raga improvisations of Carnatic music are extemporaneous, yet meticulously balanced with the harmonic diversity of western classical music and the unlimited expression of jazz. The band creates daring and compelling explorations, played with a virtuosity reminiscent of the legendary "Shakti- ensemble-yet at the same time innovative, fresh and uniquely their own.
Attesting to their dazzling virtuosity, the band's individual members have collaborated with a veritable who´s who of modern music-from Pandit Ravi Shankar, maestro Yehudi Menuhin, Stephane Grappelli, Dr. L. Subramaniam to John McLaughlin, Zakir Hussain, and V.M. Bhatt-to name just a few.
AHIMSA – The Musicians
Neyveli S. Radhakrishna
Double violin, Composer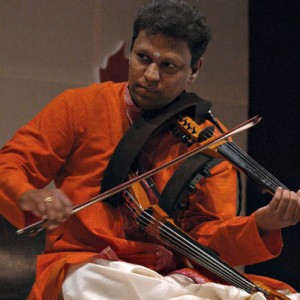 Radha who holds a Masters degree in Indian Music has played violin since he was eight years old. At age 13, he won first prize in a national Indian violin competition and was bestowed with south India´s coveted Krishna Gana Shabha Award for young performing artists. He went on to study under violin maestro M. Chandrasekaran.
Recently he was honored with the Kanchi Kama Koti Peeta Asthana Vidwan award, a prestigious honor for musicians in south India.
Radha is a highly versatile player, adept at classical music as well as jazz. He plays the rare, unique and stereoscopic ten-string double violin – and is one of a handful of professional players around the world playing the instrument. His unusual style and improvisational genius have graced stages alongside the likes of Pandit Ravi Shankar, Anoushka Shankar, Jonas Hellborg and V. Selvaganesh, in such prestigious venues as Disney Concert Hall in Los Angeles and Carnegie Hall in New York, among others.  Radha has recorded with John McLaughlin, Ustad Zakir Hussain and mandolin wizard U. Srinivas, and does extensive work for films. He has participated in several jazz, folk and world music festivals across the globe.
www.doubleviolin.com www.myspace.com/radhakrishnas
~*~*~*~*~*~*~*~*~
Matthias Müller
Guitar; Composer, Arranger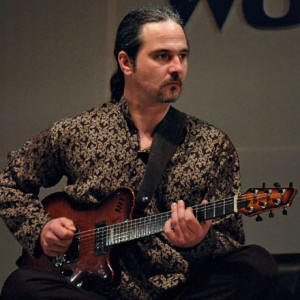 Matthias is a graduate of the College of Music at Sulzbach-Rosenberg, and studied classical and jazz guitar as well as composition and arranging at the Munich Guitar Institute and the Grove School of Music in Los Angeles. Over the several decades of his musical career, he has toured internationally and played in many styles; he frequently composes music for film and television.
Matthias' compelling interest in Indian classical music led him to study Carnatic Music (South Indian style), affording him opportunities to play and collaborate with some of the finest Indian players of our time, such as Dr. L. Subramaniam, Sivamani, Tanmoy Bose, Bickram Gosh, Debashish Bhattacharya  and world music Grammy Award winner Vishwa Mohan Bhatt.
~*~*~*~*~*~*~*~*~
Udai Mazumdar
Tabla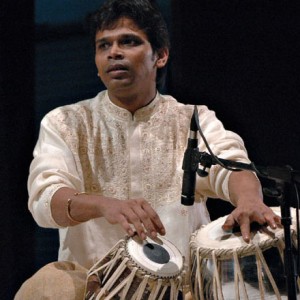 Udai hails from a family of fine musicians in Allahabad, in northern India; his father, the Late Partho Sarathy Mazumdar, was a noted classical guitarist. Udai started his vocal training in classical Indian music at age six, and a year later began to play tabla, the most popular Hindustani/North Indian percussion instrument.
In 1989 Udai moved to Delhi to further his musical experience, becoming one of the six disciples of Pandit Ravi Shankar. He lived with the world-renowned sitar maestro and learned directly from him the intricate art of tabla accompaniment.
Udai is a skilled musician with a sensitive approach. His evocative and expressive melodic and rhythmic playing, as well as his dedication and commitment to the Indian classical music genre, has made him immensely sought after. He has played with Pandit Ravi Shankar (performing before the Royal Families of England and Sweden); Ustad Zakir Hussain (in a concert to mark Pt. Ravi Shankar's 75th birthday); Hariprasad Chaurasia, and Shivkumar Sharma, among many others.
While now based in Basel-actively performing, composing and teaching-he continues to study with Pandit Ravi Shankar during regular visits to New Delhi.
~*~*~*~*~*~*~*~*~
R. Yogaraja
Mrudangam, Kanjira, Morsing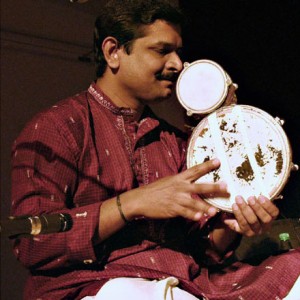 From a very young age, Yoga was trained in mrudangam — the main South Indian  drum — by his father, A.S. Ramanathan. He went on to further his education at Annamalai University in Chidambaram, India. During that time he adopted and mastered playing other indigenous percussion instruments, including tabla; the kanjira – a small  South Indian frame drum of the  tambourine family, with a huge range of pitches; ghatam, the clay pot and the mosring, a traditional south Indian mouth harp, as well as diverse African and Latin American percussion instruments.
Yoga´s instrumental diversity and unique playing style have attracted some of the world´s greatest musicians. He has accompanied maestro Yehudi Menuhin, Stephan Grapelli and Dr. L. Subramaniam, among many others. He has performed around the world in major concert halls and at numerous events with the London Philharmonic Orchestra.
~*~*~*~*~*~*~*~*~